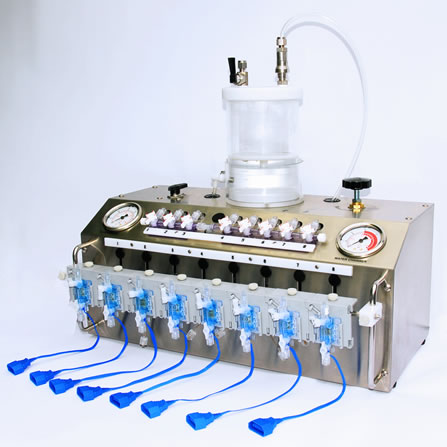 Electric Pump
The miniature air compressor initially pressurizes a small cylinder to a pre-set high-pressure level in only a few minutes with dry air. After the compressor shuts off, over two hours of continuous perfusion can be maintained by the system. The compressor automatically turns on to recharge the high-pressure cylinder when pressure drops below a pre-set supply pressure.
Available in 115 or 220 volt, 50 or 60 Hz. Please specify voltage and frequency requirement.
The large water chamber (1.0 litre capacity), has a built-in filter to prevent clogging of the capillary tubes. The manual pressure relief valve allows easy pressure release in the pump system.
Our electric manometric perfusion pumps are compliant with the following electrical standards: EN 60601-1-2:2001, FCC 47 CFR Part 15 (Subpart B), CAN/CSA-C22.2 No. 60601-1:08.
No inconvenience of handling heavy N2 gas cylinder
Eliminates the cost of gas and rental charges
Eliminates the need of modifying N2 gas cylinder adapter in countries where local gas cylinder sizes are different from North American standard
---
To place your order or for information on customization, please call (905)890-5525 or our toll free number (800)303-6611. Or, you can email us at
mail@muiscientific.com
.